Lord mayor Erias Lukwago fights on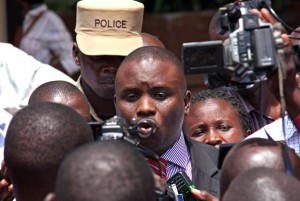 The Lord Mayor is taking the fight for his seat more seriously.
Erias Lukwago is now seeking to block the forthcoming mayoral by-election pending determination of his main petition that is before the High Court.
He has filed another petition before the same court seeking a temporary injunction stopping the Electoral Commission from proceeding with the by election to fill up his seat.
In his latest petition, Lukwago says the EC, AG and minister for the presidency all acted in contempt of court by declaring the seat vacant.
On November 25th 2013 the High Court issued and order restraining the trio from impeaching Lukwago.
Lukwago says the respondents have since disobeyed the court order, a move that could cause him irreparable damage if he is illegally and permanently removed from office.
The petition has been received by the High Court Registry.
This comes as the preparations for the city mayoral by-election continue with several candidates already expressing interest in the seat.
The NRM party is set to hold primaries in a two-day exercise that kicks off tomorrow. However, some political parties like the Forum for Democratic Change and Democratic Party have already vowed not to take part in the exercise they have termed illegal.