Former Bubuulo West MP,Tonny Kipoi arrested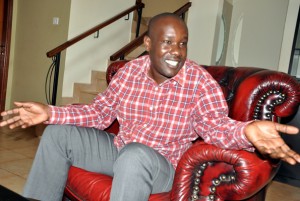 The former Bubuulo West Member of Parliament,  Tonny Kipoi Nsubuga has been arrested.
Addressing the media this morning, the director Interpol Uganda, Assan Kasigye said the former legislator was arrested by the government of the Democratic Republic of Congo and is currently being held in the capital Kinshasa.
Kasingye said they secured a Red Notice yesterday and now wait to have Kipoi repatriated in about twoo weeks time.The red notice filed under 2014/11357 was issued yesterday by the Interpol headquarters in Lyon, France.
Kipoi is wanted for being in possession of a stolen motor vehicle registration number B534 AHM Volkswagen, gold in colour that he was found in possession of in June 2013. An original investigation at Mutungo Police station under the file number CRB 1034/2013 led to his prosecution at the Nakawa Chief Magistrates court in July. Kipoi pleaded not guilty to the charge and was granted bail in July. However, he left the country to go for medical treatment in the DRC and has not returned since then.
Kipoi is wanted in four other countries on different crimes. He is wanted in the DRC for treason, in Botswana for false presence, and in Columbia and Brazil for drug trafficking.
Kipoi's case before the court has however been withdrawn by the Director of Public Prosecutions and charges of treason were preferred against him in the court martial yesterday.