Serie A: Gennaro Gattuso set to be appointed by relegated Palermo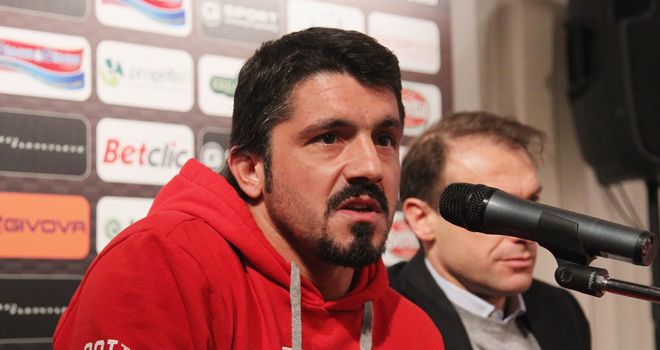 Gennaro Gattuso: Will be appointed by Palermo
Palermo president Maurizio Zamparini has verbally confirmed Gennaro Gattuso as the man charged with leading the Sicilians out of Serie B.
Gattuso, 35, now has coaching experience having briefly served as player-manager of Swiss side Sion before falling out with club president Christian Constantin last month.
However, the former AC Milan and Rangers midfielder must wait until Zamparini has resolved a contract dispute with current Rosanero coach Giuseppe Sannino, who failed to keep Palermo in Serie A upon his return to the Stadio Renzo Barbera in March.
Should an agreement be reached, Zamparini would be ready to put his faith in Gattuso if the former Italy international can successfully rescind his own contract with Sion.
Speaking to Radio 2, he was quoted in La Repubblica as saying: "I really like Gattuso and he will be the next coach of Palermo as soon as I conclude my diatribe with Sannino.
"I have a great relationship with 'Ringhio' and tomorrow he'll bring me a fish and cook it for me. He has a fish shop in Gallarate, where my offices are."
Sannino, meanwhile, is reported to be the frontrunner for the vacant role at Chievo in the wake of Eugenio Corini's departure.