Roy Hodgson confident England can qualify for World Cup after draw in Brazil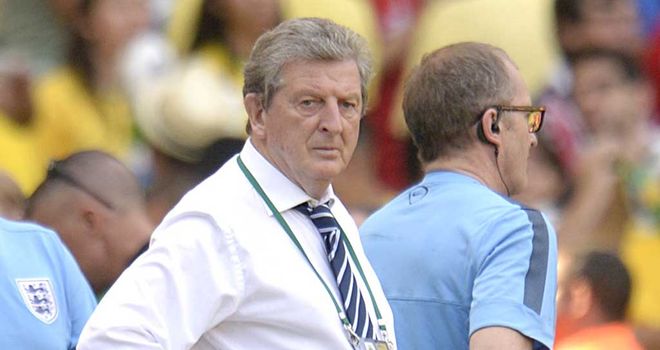 Roy Hodgson: England "a work in progress"
Roy Hodgson believes Sunday's 2-2 draw in Brazil will give England fresh confidence in their World Cup qualification battle.
England were a distant second best in the first half at the Maracana before superb goals from Alex Oxlade-Chamberlain and Wayne Rooney gave them a shock 2-1 lead.
Paulinho's outstanding volley levelled the scores with eight minutes remaining to salvage a share of the spoils for Brazil, but Hodgson insisted his side could take plenty of positives into their remaining World Cup qualifying fixtures.
He said: "We're a work in progress. We face stiff opposition and have a lot of work to do before we can think about 2014.
"But I am very confident we can and games like this increase confidence and make us even more determined to be part of the party the World Cup will be.
"I do think we were well worthy of the draw. I was delighted with how we kept ourselves in the game and didn't capitulate despite them being clearly better than us in the first half.
"In the second half we were every bit as good and we should take lot of credit for that.
"Most teams, managers and coaches know that when you come to Brazil and play them they will have more of ball and create more chances. The question is if you can deal with it and come away with a result and that's what we did.
"The clever money would have had us struggling to get any sort of result, not least because of the trip and being down to the bare bones with injuries.
"But we were desperate to give a good impression and finish the season on a positive note. I'm delighted that was what we did."
Brazil coach Luiz Felipe Scolari added: "I hope England come to the World Cup. When I spoke to Roy I said I hope to see you at the World Cup and that we will meet again.
"But we know in Europe that is difficult, much more difficult than qualifying in South America where we have four or five from 10 teams.
"England are an excellent team who are well-organised but will be facing some difficulties to be the first in their group.
"In a group where you have 10 games if you make a mistake in one or two games you might have a problem to qualify automatically and you might have to go to the play-offs. I had this problem with Portugal.
"England are very good but they have to be very careful."