Kevin Phillips would love to stay at Crystal Palace but in no rush to commit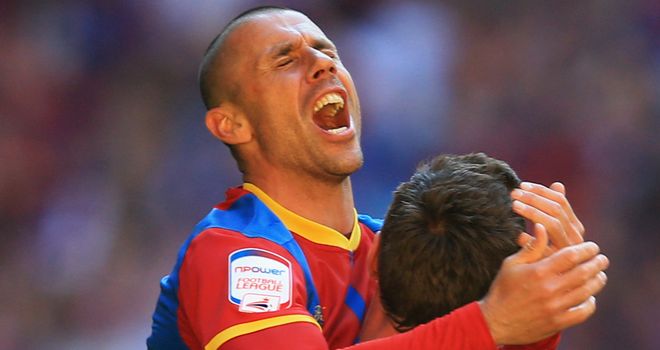 Kevin Phillips: Will he stay at Crystal Palace next season?
Kevin Phillips will take a few days to ponder his future after helping Crystal Palace return to the Premier League.
The 39-year-old striker came off the bench and was given the responsibility of taking Palace's extra-time penalty which proved to be the only goal in their 1-0 win over Watford at Wembley.
Phillips, who was at Palace on loan from Blackpool, now finds himself out of contract and would love to stay on at Selhurst Park to get the chance to become the oldest player in the Premier League.
But he is going to enjoy a holiday before committing himself to any club, after confirming he had received offers from elsewhere.
"Whether it's my last game or not, I doubt it will be, but it's probably my last chance at Wembley," said Phillips. "I'm pretty much sure I will carry on in some capacity. Where? I don't know.
"I'm just going to go on holiday now and relax. I don't want to be making a decision in the next couple of days that I'll regret.
"We'll see what happens, I've had a couple of offers already but I haven't said yes or no.
"I'm not daft, if something was offered to me (by Palace) then I'd have to consider it without a shadow. But I've got to make the right decision because of the commute – I'm still based in the Midlands.
"But, yes, that would make me the oldest outfield player in the Premier League.
"It would be a dream, if anyone asked me when I started out at 20 whether I'd still be playing at 40, I'd have said no. It (Premier League football) would be a big lure, let's put it that way."