Julio Cesar says Wayne Rooney's goal was a 'bit lucky'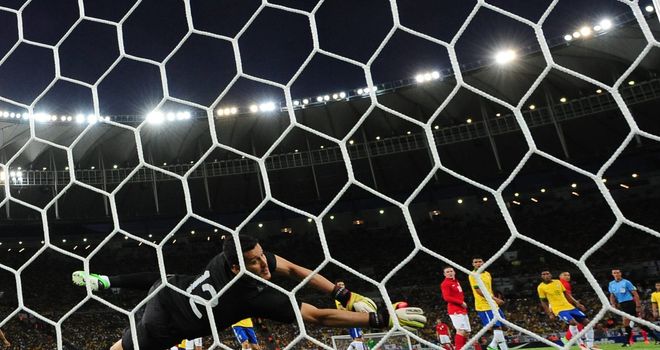 Julio Cesar: Started for Brazil against England
Julio Cesar praised England's efforts against Brazil but insisted Wayne Rooney was a 'bit lucky' with his goal.
The Queens Park Rangers goalkeeper was a virtual spectator in the first-half, but he was busier in the second as he conceded firstly to Alex Oxlade -Chamberlain and then to Rooney.
Rooney's was a brilliant strike from 25-yards, although it did take a slight deflection on its way past Cesar.
"Both English goals were beautiful, Rooney's one deflected in off Fernando's back, it was a bit lucky," he told Globo Esporte.
"We played well after conceding, but we could we improve a lot, especially in the first half, compared to other games.
"Everything was almost perfect this Sunday, only the victory didn't happen. The fans were great, we will win when we have to face a big team."
Fred, who scored Brazil's opening goal, striker admitted that he was disappointed Brazil didn't win.
"It wasn't the result we expected, I think we deserved a win, because of the chances we created in the first half, we had more than seven shots on target but didn't score," he said.
"We kept the same level from the start until the end and that makes us feel calmer."